Some recipes remind you of a certain moment. They take you back in time, and transport you to the exact place, the exact feeling, the exact fragrance. Much like the scene from the movie Ratatouille where the food critic takes one bite of the dish and is instantly transported to his childhood. I have a similar story to share.
When I was a kid, we used to travel by train to and from our native place, Karwar. It was an annual visit for Ganesh Chaturthi, back in the day when all the "modern" things were still not available in villages so we used to carry everything for everyone from Mumbai, and it wasn't possible to take it all on a flight. We used to travel by Nethravati Express as it was one of the only trains that had a pantry. The main reason was the delicious fried Bananas that were sold on the train, fresh out of the pantry, and it was something me and my brother looked forward to every year!
Years passed by, convenience took over everything else and we started taking flights every year. The memories of the fried Bananas got lost somewhere till I was watching an episode of Food Safari on TV and someone cooked Toffee Bananas. It was an instant trip to the train journeys and the happiness. I just knew I had to recreate this.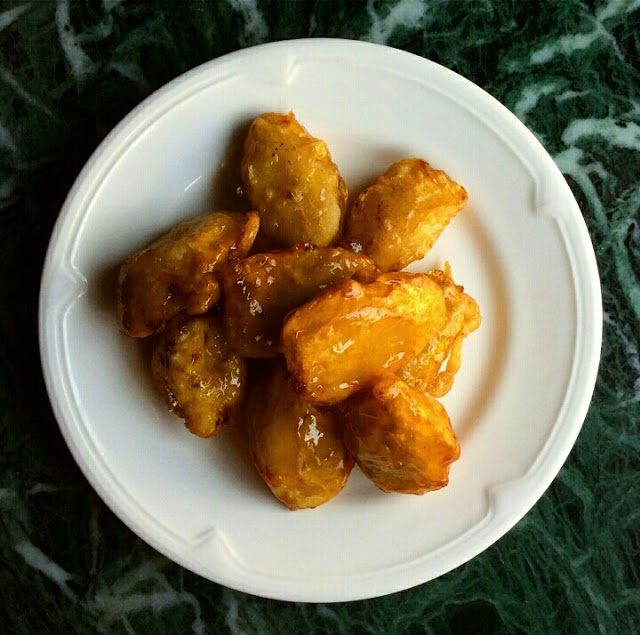 Call it the perfect opportunity, but #SeedTheRiseChallenge happened just at the right time for me. We are paying homage to the hardworking farmers of India and celebrating with recipes of ingredients that are largely produced on our soil. Bananas had to top the list, and I knew I had to make these!
Seed The Rise Campaign is a crowdfunding initiative set up by Mahindra to help improve the lives of Indian farmers who have been betrayed by the bad weather. Working with 5 NGO-led projects across India, the campaign is looking to raise Rs. 2 crores in public donations. What's more - each donation will be matched by Mahindra to double the benefit for the farmers. Check out their website to know more or to donate  http://bit.ly/1ROiYCC. You can also watch their TVC here: https://www.youtube.com/watch?v=rlS2VrSEIdE 
Coming back to the recipe, it is super quick, ready in 30 minutes from start to finish, and is so easy that it is almost unfair for something so easy to be this delicious! Here it goes:
Toffee Bananas
Serves 2
Takes 30 minutes
Recipe credit: Darwin from Food Safari

Ingredients:

2 Bananas
1/2 Cup Flour
2/3 tsp Baking Powder
A pinch of Salt
1/2 Cup Corn Flour, plus a little extra for dusting.
1/3 Cup Cold Water
Oil for frying
1/2 Cup Sugar
Ice, for ice bath.
Method
:
Heat a pan for frying, with a level of about an inch of Oil.
Mix the flour, baking powder, salt and corn flour in a bowl. Add cold water and mix the batter by hand, so as to not form lumps. It should be a thick consistency, but also easy to pour.
Chop the Bananas as per preference. I chopped them diagonally into thick slices. Take some corn flour in a plate and dredge the banana slices in it. This helps the batter stick to the otherwise slimy Banana slices.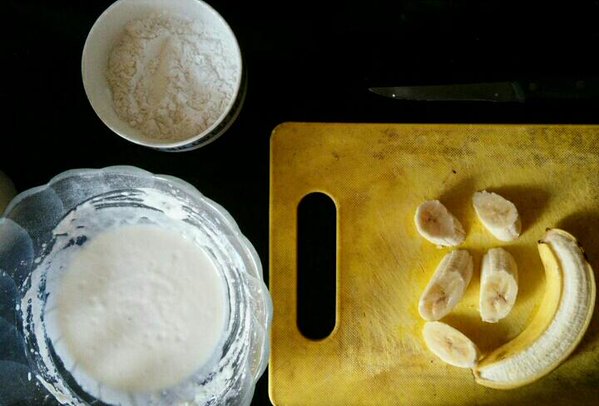 Once the Oil is heated, coat the Banana slices with the batter and fry till golden on both sides, about 3-4 minutes. Don't crowd the pan with too many slices, as that can lower the oil temperature. 4 slices at once is a good amount! You may need to adjust the consistency of the batter with cold water as you go, it tends to thicken as it sits.
Drain the fried Banana slices on a paper towel. Mean while, heat up the sugar on medium in a non stick pan. Add few drops of water if desired, and wait patiently till it turns into a gorgeous golden caramel.

While this happens, ready a bowl with lots of ice and water and keep ready.
Once the caramel is ready, add few slices of the fried Bananas to it, coat them well and immediately add them to the ice bath. Repeat till all slices are done. The ice water shocks the caramel and turns it into a super crispy exterior.

And that is it! Toffee Bananas are ready. Just imagine biting into these crunchy goodies that are oozing with melt-in-the-mouth Banana goodness inside! I recommend all of you to try it soon! :)