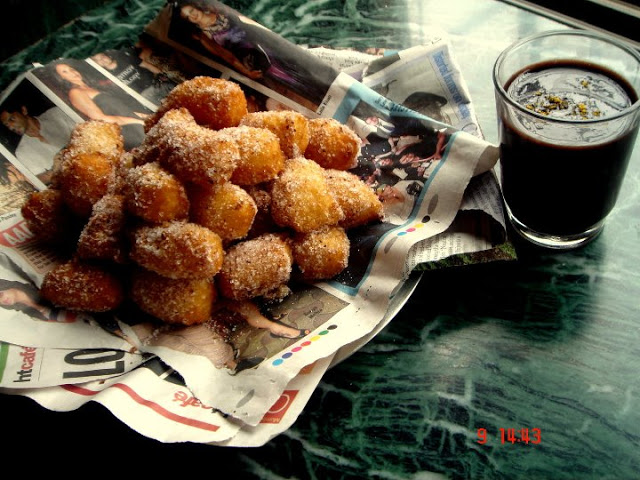 Gordon Ramsay.
Scared? Well he does cook awesome food! Okay fine,
Nigella Lawson.
There. I am sure it sounds much more reassuring now that it must taste amazingly divine. I try and stick to easier recipes all the time but many of those easy recipes are also lengthy and I blame that mostly on my obsession with having fresh homemade food which is the real deal. But these are so quick and easy, if you're an amateur cook looking to impress someone, or even an expert, this recipe is a sure shot winner. I usually made Gordon Ramsay's version of Churros which are equally good but these are just so much easier and they are more  crowd friendly coz they're vegetarian, but for the dipping sauce I had to pick the Gordon Ramsay Spiced Hot Chocolate Syrup, coz it was just so much better!
Churros with Spiced Chocolate Dipping Sauce.
Serves 4. Well should serve 4. But usually 2 people finish these off pretty quickly as a meal at my place.
Recipe adapted from Nigella Lawson and Gordon Ramsay TV shows.

Ingredients :

1 cup All Purpose Flour
2 cups Boiling Hot Water
A pinch of Salt
1 teaspoon Baking Powder
A dash of Olive Oil or any other neutral tasting oil. About 3 tablespoons.
Oil for frying
½ cup Sugar
1 teaspoon Cinnamon Powder

For the Spiced Hot Chocolate

100 gms Chocolate of choice, I used dark. But I recommend a mix of dark and milk chocolates.
Zest of Half an Orange
Peels of the same Orange
½ cup full cream Milk
1 dried Red Chili
2 inches Cinnamon Sticks
Method:
Mix the Flour, Baking Powder and Olive Oil in a bowl.
Add in your boiling hot water and mix.
Now, Oil your hands and then pick this hot mess and put it in the piping bag. I did not have one so I used a big sized Ziploc bad instead. Put this bag into the refrigerator for 20-30 minutes while you work on your sauce. This step is not necessary but I do it anyway to have the dough in a better shape for frying.
Heat your Oil, you don't need a lot. Just about an inch to an inch-and-a-half of Oil is enough for these babies. Fry them up till golden brown, which takes between 3 to 4 minutes. Rest them on paper towels for a couple of minutes.
In a flat plate, Mix in the Sugar with Cinnamon. Roll the ready Churros till they are roughly coated on all sides. I did not have a ridge nozzle or a piping bag to use with these, but usually Churros are ridges so the Sugar can stick in between the ridges. Mine were plain but it worked perfectly fine :)
Now on to the Sauce.
In a shallow pan, heat up all the ingredients except the Chocolate and the Zest. Cut your chocolate into pieces and place in another bowl. When the milk comes to a Simmer, turn off the flame and strain the mixture. Pour this mixture over the chocolate pieces and mix till you get an awesome chocolate syrup. Transfer to the dipping bowl and sprinkle with Zest.
I hardly think anyone would refuse to have a piece or two (or more) of these!