This one's for the ladies, but only huge amount of respect for any and every man who reads through and applies any of this to their life as well. 
When I was growing up, I was a complete tomboy (At least 60% of you identify with being a tomboy as a kiddo, I know). I used to play Cricket, hang around with my brother and his friends, and hate all things pink. Now that I think of it, I had no girl friends around when I was growing up. As I sailed through teenage and adolescence I developed the thinking that I was better off socializing with the boys because girls are too complicated. Then I went abroad to become a Commercial Pilot, where again I was the only girl with 21 boys.
Years passed by, things happened, lessons were learned and conclusions were driven. I used to be a girl-hater before, but I now have more girl friends in my life than boys. I don't know why and how I missed out on all the awesomeness. I swear by my gal pals and love them to bits. *sends kisses to all* (they know who they are).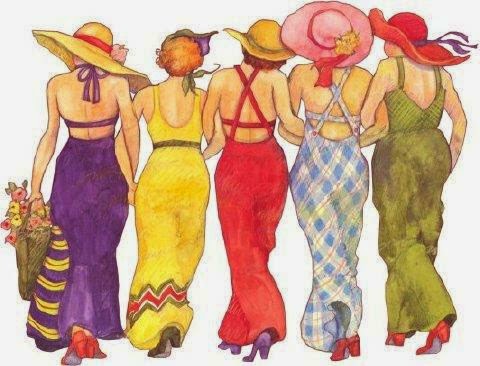 Image Credits: Google Images
One thing I have noticed is that every one in my gang of girls leads such a busy life that it is impossible to get time out for ourselves. Even when we are at the salon, or out drinking with each other, we are constantly in touch with our schedules and keeping up with the impossible list of errands and to-do lists. I do tend to get a little lost under all the multitasking stress, but then I look at my Mom, who is a 54 year old Flight Attendant, maintains her beautiful looks as well as manages our whole family. Of course, my Dad is her rock, her pillar of strength, but she is an inspiration in herself. Even on her days off from work, she runs around the kitchen, to the market, to the tailor, the list goes on. Every single one of us know at least one woman like that who needs a break. On these lines, here are a few things that I think we all must do, time and again, just to soothe our mind, body and soul.
Image Credits: Google Images
1.
Get Your Beauty Sleep
: I am busy myself on most days, still I manage to clock in 6 to 8 hours of sleep on a daily basis. Not only will it soothe your body, but also calm your senses, and gear you up for the next day. Oh, and don't forget about the amazing things it would do to your skin!
Image Credits: Google Images
2.
Drink Plenty of Water
: I'm a fitness maniac, so I drink 5 to 6 litres of fluids every day. That includes water from 1 Tender Coconut (sometimes even 2). You could start with at least 2 litres. Seriously, the road to a calm and composed mind also leads through the stomach and most things related to the stomach (acidity, digestive problems) are dealt with on a regular water intake. Keep that bottle of water handy, ladies!
Image Credits: Google Images
3.
Get a Relaxing Massage
: I have had my set of issues with random people touching me, but all that dissipated in thin air when I got my first deep tissue massage. I have noticed that I am less cranky, I make better decisions, I feel energetic for the next few days and the body can really use all that stretching!
Image Credits: Google Images
4.
"YOU" time
: It is very important to set aside some time for yourself. I go to the gym at 6 45 AM in the morning, but I try and wake up at 5 30 AM. Just because I need some time with myself, where I sit down, enjoy the silence. no honking on the road, no people, no TV volume. I just let myself be.
Image Credits: Google Images
5.
"YOU" day
: Other than spending few moments by yourself every day, it is also important to set a day aside every month where you just do whatever you want to, and that does not include work or chores or errands. You could do nothing all day, or watch movies back to back, laze around with a good book and your cup of soothing tea, cook, lay around in bed or sit in the bathtub for hours. It's like hitting the reset button.
A good way of doing this is deciding with your significant other on a date where one of you would take a YOU day. On that day you can let each other handle your responsibilities. It is workable, right?
Image Credits: Google Images
6.
Girl Time
: Just like the boys need a game night or a boys night out, we do too! I need to see my girls every few days, and I have made a promise to myself that I WILL see them once every two weeks ('coz lets face it, talking to the men in our lives is great, but nothing beats girl talk!) and spend quality time eating, drinking, shopping, watching a movie, or if I am really busy, maybe a con-call!
Image Credits: Google Images
7.
Look Good
: You have to look good to feel good. We're all beautiful, and let us not let anyone else tell us otherwise. I know so many friends of mine who think wearing Red Lipstick is not for them, I say why not? Go ahead, doll up, look pretty, accessorize! Oftentimes we ignore ourselves just because we would rather splurge on the people we love. But you owe this to yourself. Go to the Salon, paint your nails, wear a full smile for every picture and just see how pretty you look when you feel good.
Image Credits: Google Images
8.
Exercise/workout
: I have tried very hard to pull this one down to number 8, but there is no running away from this one. You feel so great after an intense workout with all the endorphins your body releases. You feel fresh and happy, and what better way than unloading all the frustration from a stressful day during workout! I am known for punching the bag a little too hard at kickboxing class (I just imagine my hater's face on the bag) :P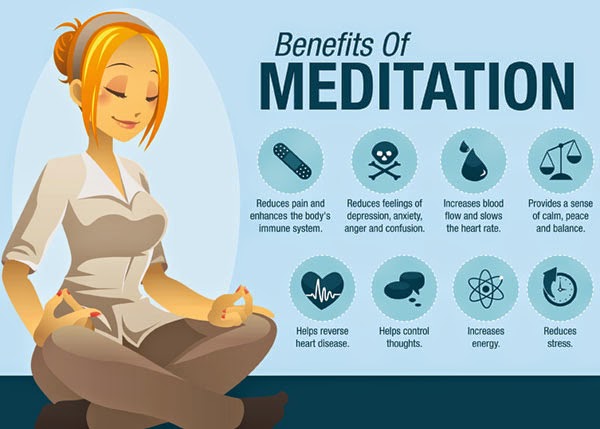 Image Credits: Google Images
9.
Meditate
: I don't want to get all preachy here, but seriously, as little as 5 minutes of meditation helps the mind maintain focus. I am trying to get into the habit myself, and so far it has been great!

Image Credits: Google Images
10.
Smile
: Now this one works in 2 ways. One, when you smile and/or laugh, you feel pretty amazing inside. Two, there is someone in your lives whose day is made with that one beautiful smile of yours. Don't let anyone ever rob you off your smile.
It feels great to be a woman. Cheers to you, Cheers to us!
Happy Women's Day!