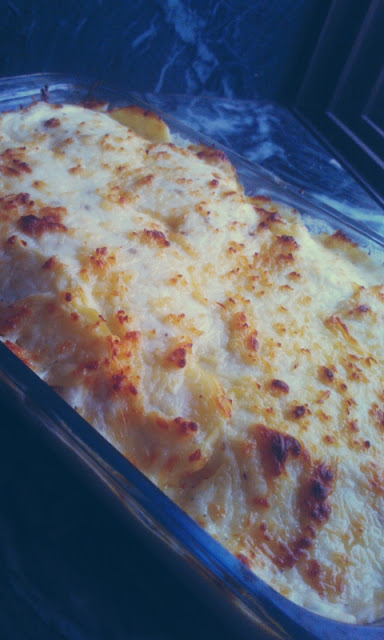 I think I've completely taken after my Mother, especially in the department of having hunger pangs. These hunger pangs are rather specific and detailed, such as having Pav Bhaji but only from Amar Juice Center during peak hours of traffic. I wouldn't blame her
for asking me to make a Vegetable Au Gratin for her. To be honest, she did not like it before, said she preferred it only with Cauliflower, but 2 days later I was asked to make this again. That is not bad in my books, for I excel in the art of reading between the lines, since both my parents are critics and hardly praise anything I do openly. I put in a layer of sliced Potatoes on top of the assorted Veggies and everyone found that desirable!
Veg Au Gratin
Serves 4
Recipe : Self

Ingredients:



3 Cups assorted veggies (Cauliflower, Broccoli, Carrots, French Beans) Cut into small dices/florets.
3 medium Potatoes, Peeled and sliced into thin roundels.
2 1/2 Cups Milk
1/2 Cup Cream (Amul Cream)
50 gms Cheese, Grated
3 Tbsp Butter
3 Tbsp  All Purpose Flour
Salt, Pepper to taste
Nutmeg Powder.
Method:
Preheat oven to 180C/350F
Boil water with some salt in a pot and blanch all the assorted vegetables until half cooked, About 10 minutes. Remove with a slotted spoon, drain and set aside.
Next, add the Potato slices and boil for 3 minutes. Drain and set aside.
In another pan make your roux for Bechamel Sauce. heat up the butter until frothy (dont let it turn brown) and add in the flour and keep stirring until fragrant. Add your milk and cream, and let it come to a boil, stirring constantly. The sauce will thicken up. Season with Salt and pepper, you may also add some nutmeg powder (just a pinch) but its optional.
In a baking dish pour all your assorted drained veggies, and pour half of your sauce onto it. Then layer with sliced potatoes and pour the remaining sauce over it. Top with grated cheese and bake in the oven for 20 minutes , till the cheese is nicely gratinated and brown on top.
Cool for 10 minutes before serving
Enjoy!