I am that girl who downloads and watches episodes of Gordon Ramsay's Kitchen Nightmares on loop. Believe me when I say that I actually have a fair idea about what goes into the making of a successful place to eat. It's simple : Good Food, Good Service, Hospitable, and all in all a good experience for the customer. There is good reason why I hardly go eating outside and one of them is not knowing exactly where my food is coming from. But that is a battle we all have to surrender to anyway, be it home cooking or fine dining. So when you invite someone over to review your restaurant, it is only human of them to expect you to be at your absolute best.

A bunch of us were invited to Corniche in Bandra, situated right next to the CCD at Carter Road, and one would expect nothing but excellent stuff from a place which is located at such an upscale area. Let me start off with the decor and the overall idea of Corniche. First of all, it is an open air restaurant located bang opposite the shoreline of Carter Road and one of the main concerns hence is Humidity. This was not taken care of since even though we were on the guest list and 2 humongous fans were situated near us, we had to hint the servers to actually go and turn them on. Secondly, and one of the most important things, the washrooms were not well maintained. The place would probably look much better when the rainy season is gone and all the black covering is off the ceilings.

I was the first one to reach there and found out that there is going to be a live cooking session with the chef followed by a food tasting. The invite stated that the meet was to begin at 1730 hours and end at 2000 hours (I have not received even a single food review invite with an end time on it, just makes me feel like they wanna get rid of me before paid customers start coming in) but the actual event started at 1815 hours and still ended exactly at 1930. In those 75 minutes, 5 dishes were cooked and a food tasting happened too. Here's how:
We were handed out the list of ingredients for all the dishes to be cooked that evening.  Wild Mushroom Soup, Tomato Concasse, Tangerine Chicken, Greek Salad, Penne Amatriciana, and Chicken Risotto. No recipes, mind you. We were expected to pay attention to everything Chef Amit Chaudhary was cooking up for us at the live station. The air was filled with wonderful aromas as chef cooked dishes one after the other like running a live service. He was happy to answer any doubts that we had regarding the dishes or any kind of cooking questions in general. Post that he disappeared for we were served the same menu for Food Tasting.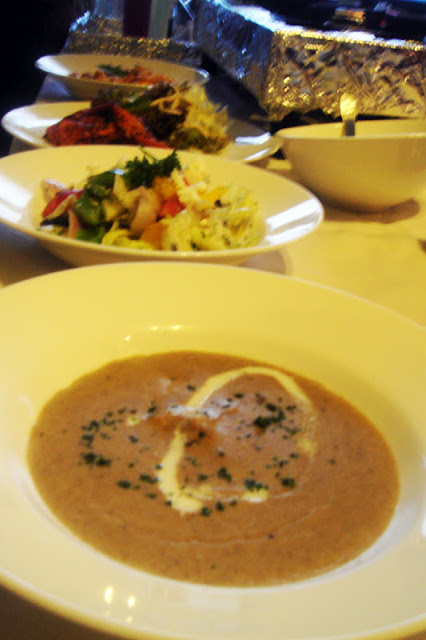 The Wild Mushroom Soup was fresh and earthy, not too creamy and just perfect to get the appetite going. Unfortunately there was too little in each serving.

The Greek Salad was nice and fresh, but here's the thing. If there is no Feta, it is not a Greek Salad. Most of us did not have Feta Cheese in our Salad Bowls. Disappointed.
For the 4 Vegetarians that were a part of the review group, this was it. There was nothing else served to them while we Non Vegetarians kept chomping off the other dishes. This is pathetic on the restaurants part. Just because we are in for a free meal does not mean you treat us like this. Any guest is a guest and hey you guys are trying to get some good reviews out of us. Shame.
Here's the thing with twice cooked chicken. I don't like it. Especially when its grilled and then used. The only recipe in which I use this method of cooking is the butter chicken where I take utmost care not to get the edges too cooked or charred because they will taste bitter when cooked later.

The Tangerine Chicken was marinated in Orange juice with other spices, then grilled on skewers and then cooked in a Tomato Concasse+ Orange Juice gravy. First of all it did not taste of Tangerine. The chicken tasted like it was overcooked and had been sitting for too long or had been pulled out from the fridge and zapped in the microwave before adding to the gravy. It is beyond me why this gravy dish was served with Leafy Greens (which were limp) instead of noodles or rice or bread. I was looking forward to this dish the most and this was probably the biggest let down of our evening.

Moving on to Penne Amatriciana. The pasta was pleasant tasting and the highlight of this sauce, Bacon, was used very sparingly. But all in all I liked the dish.

The Chicken Risotto was nice, too. The first serving that came around had chicken pieces that were undercooked and were way too big and chunky. But the second round that came out was much better, seems like that was freshly made as the chicken was tender, sliced nicely and the risotto was creamy. This was topped with a Parmesan and Cheddar Crisp which was the highlight of the dish and we had to shamelessly ask for extra crisps for our Vegetarian friends.
2 minutes later the plates were cleared and there was an awkward silence with no activity. 2 minutes post that the lights went out signalling us to leave (I guess). Well, no dessert for us. No problem. There were 2 PR girls who received us and one of them left in the middle of the meal while the other was hanging out all along, but for all the excitement and introductory speeches given out to us, there was not so much as even a proper good bye. We took some pictures and showed ourselves out, and headed straight to Out of The Blue for some amazing Peanut Butter Fondue, and I am not comparing here but there is a reason why we keep going back there (hint: SERVICE WITH A SMILE).

I spotted the very famous Fashion Bombay duo at Corniche before our event began and they seemed to be pretty pissed about something and left in haste too. Later I read their twitter feed saying that they were also invited for the event but were in fact billed for stale fish and dessert.
A big thumbs down from me, and please avoid going to this place since it needs new staff and probably a better, less confused menu.
And a lesson learned, I am now going to stop attending any and every food review. Must choose wisely.
I hope the folks at Corniche get their act together soon and if they fix all this they would be unstoppable considering the prime location, else it's gonna be difficult in the long run!! 
The good thing about the evening was catching up with the Food Blogger group and having an amazing time nonetheless :)
Thanks for having us over!