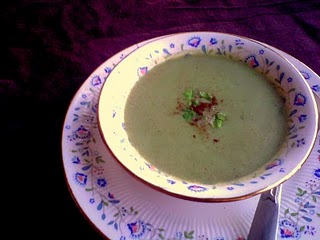 The Picture does not do the dish Justice!
It's been quite long since I posted something here. I have been trying to be eating healthier, while not starving myself in the name of "diet". I made myself this soup today. Healthy, hearty, and so full of flavor, if you ever experienced a feeling of lightness and at the same time experienced a sense of fulfillment, that's the feeling you get when you have a spoon, or a bowlful of this. And then you might consider getting some extras too.
Creamy Green Peas and Cilantro Soup with Roasted Cumin Powder




Source: Self

Serves 4





Ingredients



2 tbsp Cumin Seeds
1 1/2 cup Green Peas
A handful of Cilantro/Coriander (Stem and all)
1/2 cup Milk (I used low fat milk, you can use cream too)
1 medium sized Onion, roughly cut into 4
4 big cloves of Garlic
1 tablespoon Olive Oil
1 1/2 cup Water
Salt to taste
Freshly ground Pepper to taste

Method
In a dry pan, roast the Cumin seeds till they change color to a dark brown and give out it's aroma. Let them cool for few minutes, then grind them into a powder. I actually made it in bulk and stored it in an air tight bottle for further use. This powder is seriously good, and can save many-a-meals go downhill.
In a pan, heat the oil, and while it's still heating toss in the Garlic and Onions, and sauté them for a minute. Toss in the Green Peas, Cilantro, and give it a stir and add the Water. At this point I lightly salted my broth, and made adjustments later. Let it simmer for 30 minutes.
Blend the boiled broth along with the milk, until it forms a smooth, silky mixture. Then pour it back to the pan and re-heat it, adjusting for Salt and Pepper. Garnish with the Roasted Cumin Powder. It makes all the difference!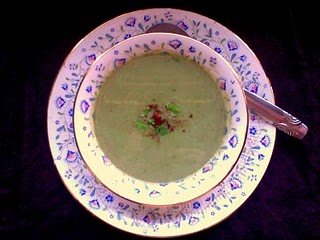 I thought I'd need a salad to go along with this, but it satisfied me enough to have considered it a complete meal in itself. Enjoy :)