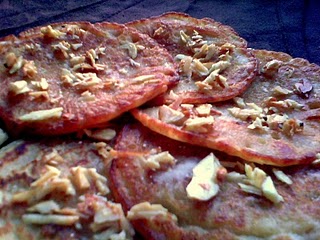 Malpuas are one of the best Indian desserts there is. Most of us have memories associated with this dish, like playing outside in the woods and returning home for hot Malpuas which Granny made, drenched in Sugar Syrup and loaded with the goodness of Bananas and Saffron. The only noticeable difference is that we lead a much stationary lifestyle now, do not spend that much time playing outside and climbing on tree-tops, sit like an Owl staring at the computer all day long, surfing and browsing and adding to the lethargy only more as each day passes.
Malpuas are basically pancakes fried in Ghee (Clarified Butter) and then soaked in sugar syrup with a drop of Rose water in it. Traditionally they are made out of All Purpose Flour, and it is the best way to use over-ripe Bananas, coz' the original recipe calls for an over-ripe mashed Banana. I googled around a little bit and decided to make a Whole Wheat version of the same, sans the sugar syrup and using a minimum amount of Ghee.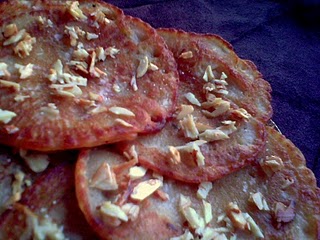 Whole Wheat Malpuas
Serves 4 people.
Recipe from Granny, and some idea from oliveandbasil.blogspot.com
Ingredients:
1 cup Whole Wheat Flour
2 tablespoons Semolina (Optional)
1/2 cup Curd
1 cup Milk
1/2 cup Sugar
1 tablespoon Fennel Seeds (Saunf) ground or crushed.
A pinch of Salt
1 teaspoon Cardamom Powder
4 tablespoons Ghee (Clarified Butter, you can also melt unsalted butter and skim the froth off the top)
Assorted Chopped Nuts (Cashews, Almonds, Pistachios)
Method:
Blend together everything except the Ghee and the Nuts. It should form a loose paste, thicker than the normal Pancake batter. It should just barely be able to drop off a spoon. Let this batter rest for 10 minutes. In the meanwhile, heat your ghee on medium low till its liquid, then fry the chopped nuts in it for 10 seconds. Drain the ghee from the chopped nuts and reserve for frying pancakes.
Now heat up a flat bottomed pan for the Malpuas, and just barely smother with ghee on a medium flame. Now drop in 1 to 2 tbsp batter, spread it in the form of a small circle, and let it fry for about 3 minutes each side. You can be liberal with the ghee too, if you like. It tastes even better when it's loaded with Ghee ;)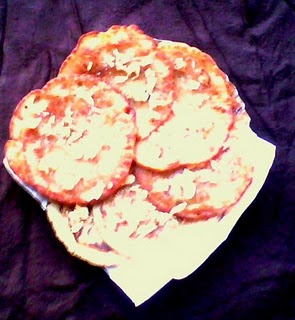 Before you flip these babies, drizzle with a drop or two of ghee. Then flip over. Once both sides are thoroughly browned, remove them and then top with chopped fried nuts. I was experimenting with the quantity of sugar and I added lesser than the recipe, so I had to dust mine off with some powdered sugar too. Voila! Enjoy :) Tastes best when hot!