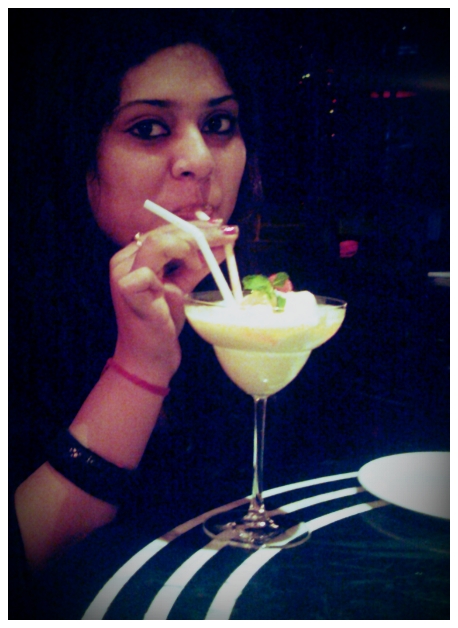 I always segregate my food review into parts such as decor, ambiance, service, attentiveness, taste and presentation, other than the most important question of whether or not I would visit this place again. I follow a checklist (I am a checklist person!) and review places accordingly. I wish I could
say I did the same for Veda two months ago. But maybe not. Because it is etched in my memory. No points for guessing whether I am going back again or not, but I have just returned from a long trip overseas and the first place I went to upon landing was the Veda outlet at Promenade, Vasant Kunj, New Delhi.


The beautiful tinned ceilings and the antique walls with a red and black theme, the Marble tables and chairs that make you feel like you (and your tushy) matter, and the dimly lit chandeliers make sure that you are transported to some other era. While you're soaking all that up, do not miss out on the amazing cocktails Veda has to offer. Mixologist Eric Lobo will make sure you have Cocktails you will never forget. I tried the Spider Bite, which was a generous shot of a Chili Vodka with Sweet and Sour mix! If that was not enough we also tried their warm Tea cocktail and a frozen Yogurt with Figs and Apricots. Perfect way to beat the heat! Don't forget your appetizers, the Palak Chaat at Veda is a must try!


Soon after we were wowed by a Kebab Platter, thanks to the chef! I wish I could lay a finger on anything or complain about anything but I cannot because it was spot on. All of it. The Fish was cooked to flaky perfection, the Galaouti was melt-in-the-mouth and the Chicken was succulent. Seasonings were perfect and every single item tasted different!

I don't know if it is the Indian mentality or just people being stingy when they refuse to pay a sizeable sum for Indian fare as compared to Continental or Chinese cuisine. But if you guys are looking for that one Indian food place where you want to take all your friends visiting from overseas, Veda is the right place! Surely it is a little pricey but the food is absolutely worth it. Why else would I OD on something as simple as Mushroom Mattar! Other recommendations are Dal Makhni, Mutton Rogan Josh and Chicken Begum Bahar!

Everyone knows that I have a separate stomach for dessert so I could not wait to see what was in store, and as expected I was floored. The Shahi Tukda was served warm, with a net of Mawa underneath and was not very sweet, just perfect. The Litchi Tehri was surprisingly light and refreshing! Unfortunately we did not get the chance to try the Paan Kulfi but next time we surely will!


I have written this entire blog post 2 months after reviewing Veda and everything is still fresh in my mind. The hospitality, the ambiance, and the food! Kudos and keep up the great job, team Veda!