After all that festive mithai eating and binging on Indian food over this Diwali, there was a desperate need to eat something light yet creamy, not overloaded with spices yet flavorful, and that is how this dish happened. Lemon and Butter is the kind of combination that can never go wrong in my opinion, unless you manage to get some Lemon in your eyes or burn down the Butter to bits that are darker than the usual brown. If you haven't been a part of kitchen disasters like these, then I recommend that you definitely give this dish a try!
Spaghetti in Lemon Cream Sauce
Serves 2
Source : Adapted from Simple Recipes

Ingredients:

300 gm Spaghetti (Or any other pasta that you like)
6 Cloves of Garlic, minced
2 Tbsp Olive Oil
1 Tbsp Butter
Juice of a Lemon
Zest of a Lemon
200 ml Cream
1/4 Cup Water, recently boiled
1 Chicken Stock Cube
1 Cup reserved water from boiling the Pasta (Not all will be used)
1/2 Cup grated Cheese (Optional)
Salt
Pepper
Nutmeg
Coriander. chopped, for garnish.

(Note: You can also add in veggies like blanced Broccoli, Spinach, Peppers etc. or thin slices of Chicken, or Shrimp if you like.)
Method:
Heat up a large deep pot with Water, cook Pasta as per package instructions. Reserve 1 cup of Water from the pot for further use and drain out the rest, and toss the pasta in Olive Oil.
Dissolve the Chicken/Veg stock cube in the recently boiled 1/4 cup Water.
While the Pasta cooks, in another pan heat up 2 tbsp Oil on medium high and add in the Butter and wait till it froths. Add in the minced Garlic and cook for 30 seconds. Add in the Stock water, Cream, Lemon Juice and veggies/meat if any, and turn the heat to simmer.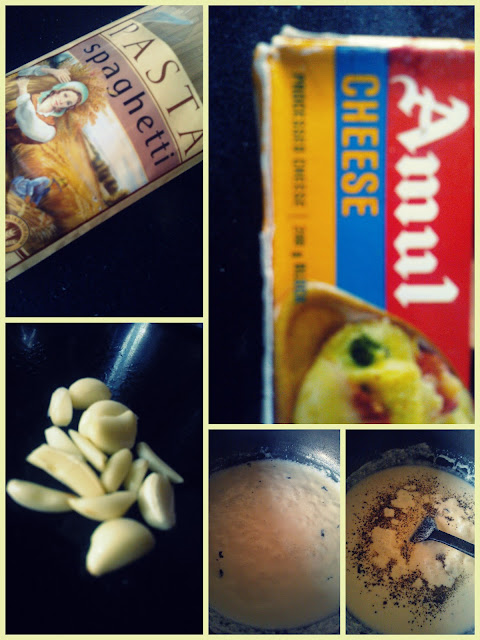 Cook for 5-7 minutes and add in half of the Cheese. Give it a stir till incorporated and add in a pinch of Nutmeg powder, Pepper and Salt (Go easy on Salt as the Stock cube is salty). Mix in the Pasta and half of the Lemon Zest. Toss to coat. Loosen the texture with some Pasta water (you will need about 1/4 Cup) and if it feels too dry then feel free to add in some more, little at a time.
Garnish with Coriander and the remaining Lemon Zest and Cheese. I like a bit of extra cracked Pepper on top too! Serve warm.