Here is why everyone who bakes should invest in an electric whisk. People like me think we can handle working our whisks like a mean machine and whip up Egg Whites and Whipped Cream. We come across recipes that are so simple and take them up, and then make a complete fool of ourselves over and over again. From hand whisking egg whites for an hour to whipping this batch of whipped cream with a large whisk for about 90 minutes, I can say that I have pretty strong forearms. Have a look at the video:
http://youtu.be/c6L3ATWetig
The first thing I wanted to do when I bought an electric whisk was to fix my baking failure. I had been trying to bring to life, the drool worthy and gorgeous looking Pavlova that Saee had up on my website. I have had dreams about making love with the Pavlova. I could only imagine what it would be like to dig into it and enjoy the sweetness with my eyes closed with that "
mmmm...
" sound... Well, you get the drift. But all I ended up was with soupy looking Egg Whites which refused to hold up. I had to get it right this time. It was finally time to put my love affair with the Pavlova to test... and I am now, a Pavlover.
Pavlova
Serves 4-6
Recipe : Saee Koranne-Khandekar from MyJhola.

Ingredients:

2 Egg Whites
100 grams Caster Sugar
1 tsp Cornstarch, heaped
1/2 tsp Vanilla
1/2 tsp White Wine Vinegar
a pinch of salt
1/2 Cup Whipping Cream, Whipped to soft peaks.
Method
:

Preheat oven to 180C/360F. Line a baking sheet with Parchment/Butter Paper. Do not grease it.
In a clean, dry bowl, place the Egg Whites and Salt and whip them until very frothy. Add in the caster sugar, little at a time, and whisk along on top speed until you have what Saee calls a big satiny gloop that is stiff enough to hold shape. Add in your Vanilla, Vinegar and Corn Starch, and fold it all in until incorporated.
Pile it all on the parchment and pop the tray in the oven. Turn the temperature low to 150C/300F and bake for 30 minutes or until the tops look shiny and light baby pink in color. Remove from oven and let it cool completely.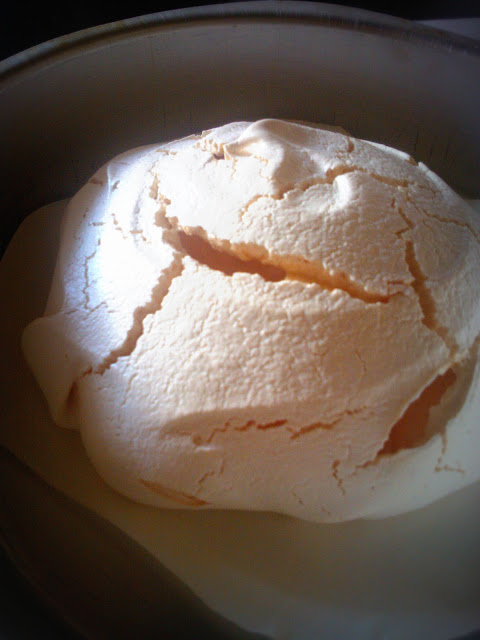 Peel off the parchment (be careful, it is very delicate) and place it on a plate. Pile on some more whipped cream over it. I love Bounty so I actually added some Coconut Cream to my Whipped Cream and furthermore topped it with shards of dark chocolate and made a Bounty Pavlova that was gone in minutes!
Needless to say, The Pavlova also got a lot of Paparazzi and many more Pavlovers!